Special Announcement

We at MAP have had the privilege of representing some of the finest men and women in law enforcement here in Maine since 1975. We're consistently amazed at your devotion to your communities and our fellow officers throughout the country.

We are thankful for the honor of your membership and will be thinking of all those who won't be with their families on Christmas as they will be protecting those in their cities and towns.

To our members, citizens military and fellow LEO's throughout the country, Merry Christmas, from our family to yours and may you all return home safe through the Holidays....and ever after.

Stay safe and watch out for each other.

PTSD is becoming a silent killer among First Responders. This is an issue that has been kept suppressed for so many years, thought of as a weakness. It is time we get it out into the open and accept that it is a part of our profession.
Save The Date
We are drawing closer to the 21st Annual MAP Awards Banquet! This year, the banquet will be held on Saturday January 25th, 2020 from 5:30pm-12am at the Portland Elks Club located at 1945 Congress Street, Portland Maine.
The schedule for the Awards banquet is as follows;
5:30-6:30pm Social Hour
6:30-7:30pm Dinner
7:30-9:00pm Awards Presentations
9:00-Close Entertainment
The most important part of the evening is the recognition of our fellow members who represent their departments, MAP and the profession with outstanding performance in their duties. As awards are based on merit and nominations from the membership, it is important for ALL local units to participate and speak up on behalf of their fellow brothers and sisters.
Attached is the list of the award categories for the banquet. All nominations MUST BE IN WRITING AND RECEIVED ON OR BEFORE DECEMBER 2nd, 2019. Nominations will be accepted for all categories EXCEPT; the William B. Troubh Leadership Award which is selected by special committee on behalf of MAP.
***Any nominations received after the 2nd WILL NOT BE ACCEPTED. Please take the time to copy, distribute and post this notice and award categories for all your members and encourage their participation.***
Nominations for awards must include the officer's/recipient's name, department and supporting information to be considered. We will then notify local presidents and the officer making the nomination as to the status of the nomination after the selection process has been completed.
In your nomination indicate whether or not the award will be a surprise. It will be the responsibility of the nominating local to make sure the award winner comes to the banquet as well as notifying their chief to invite them as well. Take the time to nominate a member as many times our work goes unnoticed by administration and the public.
Although there is no cost to individual MAP members and their 1 guest to attend the event, we require a headcount of those attending, as we are charged per plate. Please do not sign up to attend unless you are committed to coming to the banquet: If you are not sure, DON'T SIGN UP.
We are in the process of reserving a room rate at the Comfort Inn located at 90 Maine Mall Road in South Portland and will update you on the final confirmation of rate(s) and shuttle service.
As in our previous banquets, we are again conducting a raffle of items to benefit the MAP Charities Fund. If your local would like to donate an item please contact me at the office and let me know prior to the banquet.
The attached signup sheet should be posted so that all those interested can have the opportunity to consider attending. The deadline for unit headcounts will be Friday JANUARY 17th, 2019.
For Award Descriptions, Click HERE
Nominations can be mailed to:
MAP Award Nominations
PO Box 2263
South Portland, Maine 04106
OR: Emailed to maped75@gmail.com (Must be an attachment on letterhead)
Thank you and Stay Safe
Tom Cole: Tribute to His Brother
Give the Gift of Music and
Help Support the Family of Our Fallen Brother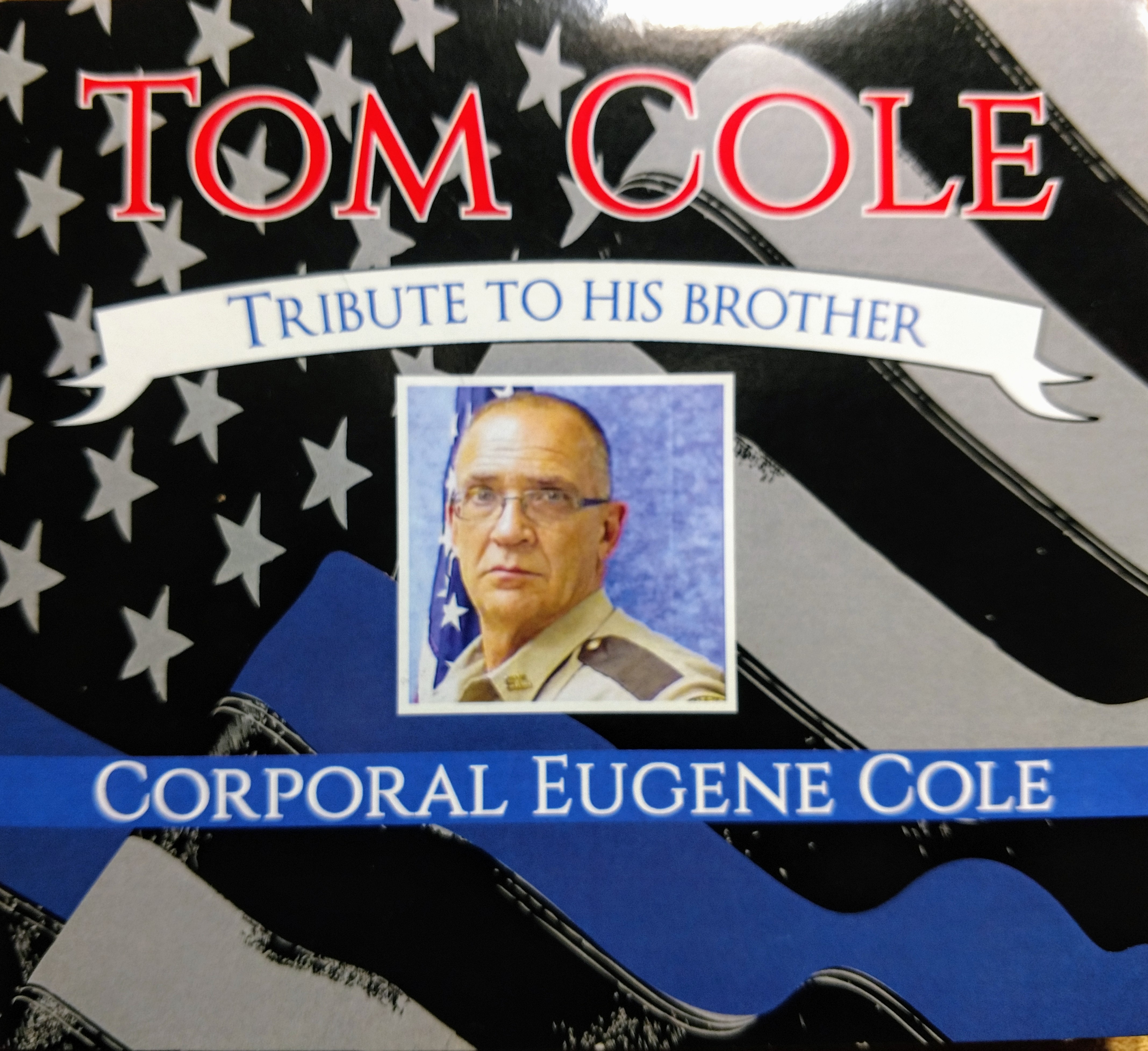 MAP is partnering with Tony Mantor of Plateau Music in Nashville to support the Blue with this tribute to Fallen Somerset County Sheriff's Corporal Eugene Cole. Corporal Cole was viciously murdered in the line of duty on April 25th, 2018 in Norridgewock.
Gene not only leaves behind his wife of 41 years and four sons and many relatives including his brother Tom but a grieving law enforcement community as well.
The MAP board and its members have been challenged to step up and support Gene and his family in their time of loss. Recently, Tony Mantor, who was born and raised in Skowhegan, brought Tom Cole and members of Gene's family down to Nashville and made it possible for them to record 5 songs written by Gene as a tribute that are now contained in the CD pictured above. The Tracks are;
1. On My Way To Nowhere
2. Room 13
In addition, Mantor brought together incredibly talented session musicians from throughout Nashville; many who played with well-known artists you listen to today on top radio charts to help in the effort. It is a testament to what Maine people are all about and a team effort in securing the memory and legacy of Gene Cole. In addition, there is a companion DVD that documents the project and efforts, as well as interviews with Mantor, musicians, members of the Cole family and of course; the making of the music.
Click HERE To Listen To "Life Without You"
Tony Mantor has held strong to his Maine roots and the automatic impulse to help his neighbors and friends. Covering the costs involved with the production, he has put together a set of both the CD and DVD; especially for MAP members and LEO's for a special price of $20.00. With our help, we can ensure that ALL PROCEEDS go to the Cole family to assist them in their needs going forward without Gene. The challenge AND the goal given to us is to rally our members and fellow LEO's throughout the state and sell 500 sets which in addition to previous sales will net the Cole family $15,000.00!
WHAT CAN YOU DO?
Quite simply, pledge to buy a CD/DVD Set, or several. Encourage or challenge your fellow members or departments to do the same. We know that we can meet this challenge and it is our hope that we will not only reach our goal of 500 sets but put in an order for more! We are doing this by asking you to PRE-ORDER and PLEDGE to purchase sets through the form below.
The DVDs are in the process of final production and the sets will be sent to MAP when they are done and combined with the CDs. This will allow us to have all sets shipped at once and as MAP will be covering the bulk shipping cost, 100% of your $20 purchase price will go to the Cole family.
HELP US SHOW WHAT MAP HAS ALWAYS BEEN ABOUT. PRE-ORDER AND PLEDGE YOUR $20.00 FOR EACH SET YOU DECIDE TO PURCHASE! HELP SPREAD THE WORD AND ENCOURAGE OTHERS TO DO THE SAME. THIS PLEDGE FORM WILL BE ON THE HOME PAGE AND OPEN TO ALL WHO WOULD LIKE TO HELP OUR CAUSE.
ON BEHALF OF THE MAP'S BOARD, TONY MANTOR AND ESPECIALLY THE COLE FAMILY, YOU HAVE OUR THANKS FOR KEEPING THE FRATERNAL CONCERN FOR OUR BLUE FAMILY.
STAY SAFE AND WATCH OUT FOR EACH OTHER
TO PRE-ORDER "TOM COLE; TRIBUTE TO HIS BROTHER"
| | | |
| --- | --- | --- |
| | Selected PSA | |
| | | |
MAP Has "Your SIX"
We are proud to invite our members and supporters to the inaugural Maine Association of Police Podcast; "YOUR SIX"! This is the culmination of a long process of planning, technical assistance and hard work to bring a new level of communication and access to our members throughout the state.
Your SIX will provide our members with topical and current issues affecting our law enforcement profession, including; legal, labor, family and all things related to our fraternal concern. We will be using both audio and video casts with a myriad of guests and topics.
We are very honored to have Randy Sutton, a national speaker, subject expert, and former Las Vegas Metro PD Lieutenant as our first guest. We will be talking about Randy's new national initiative - "The Wounded Blue" and MAP being one of the first to partner and support the effort!
YOUR SIX debuted at NOON TODAY on our Facebook page as well as our website, with the first episode open for public viewing . After this first viewing, this will become a member only accessible service for our loyal members. You can also now view our first episode using the link below.
Stay safe and we have Your SIX!
for more information about Rany Sutton & The Wounded Blue, go to;
Listen to MAP Friends and Supporters Turquoise Willie Honor First Responders
"Over the last several years we have spent time traveling around the country performing from coast to coast. During our time we have gotten to know many first responders and have to become quite close. Thanks to these friendships we have been given a glimpse into their lives and the sacrifices they make every day without question. There have been several tribute songs written throughout the years, but we wanted to take their stories and connect them into a piece of work that acts almost as a mission statement to convey the pride and camaraderie that exists in this international fraternity."
TO ALL THE MEN AND WOMEN WHO DO THE JOB;, THANK YOU!
| | | |
| --- | --- | --- |
| | Blog Topics | |
| | | |
| | | |
| | | |
| --- | --- | --- |
| | Officer.com | |
| | Connection Failure: This usually happens when the news feed URL is entered incorrectly. | |
| | | |
UnionActive Police Newswire