Special Announcement

SAVE THE DATE

MAP Local Unit Member Annual Meeting Announcement

MAP Local Unit Member Annual Meeting

Friday March 20th, 2020

10:00 AM

Maine Association of Police Office, 753 Broadway South Portland

The Tentative Agenda for this meeting is as follows:

Annual Financial Report 2019

:

Offered by the executive director and secretary treasurer.

Legal Update: Report on legal work on behalf of membership.

Proposed Changes to Bylaws for Discussion and Vote: Proposed language will be is still being compiled and will be provided with advance/reminder notice and finalized agenda.

Business Report: Report out on MAP operations. Report out on 2019-20 MAP Awards Banquet.

Discussion/Vote: 2020 MAP National Police Memorial Week Trip Sponsorship

Legislative Update: Discussion on current matters affecting MAP Members

Election of Board of Directors Officers: (Current positions expiring March 2020)

President (Currently held by Kevin Riordan, Old Orchard Beach PD)

First Vice President (Currently held by Chris Todd, South Portland PD)

Secretary Treasurer (Currently held by Jason Burke, Windham PD)

Nominations for executive board positions will be accepted from the floor on the day of the meeting. Members interested in running for an open position must participate at this meeting to accept nominations and engage in the voting process. Distance participation will NOT be available for this meeting.

Each position is for a two-year term with the member agreeing to commit to attending all meetings of the executive and full boards. If any member has questions about, or an interest in, an executive board position, they can the contact the MAP Office at 767-2558. The description for the expiring positions are listed below.

From the MAP State Bylaws, Effective 01-01-2017

Article VII: Board of Directors

The Officers shall be nominated and elected by the Local Unit Members. The Board of Directors ("Board") shall consist of the President, four (4) Vice-Presidents (first, second, third and fourth), and the Secretary/Treasurer, all of who shall serve for two (2) year terms. The President, the first Vice-President, and Secretary/Treasurer will be elected in even numbered years; the remaining Vice- Presidents shall be elected in odd numbered years. In the event of a tie vote in an election, other than for President, the President shall determine whom among the candidates will serve the term. The Board members shall receive a stipend as set by the Local Unit Members. The Board will govern the conduct of the affairs of MAP except as expressly reserved to the Local Unit Members as provided herein or under law.

The term of office for these positions shall be served in its entirety, absent resignation, or removal pursuant to this Article. At the discretion of the Board, absence from six (6) Board meetings during a one-year period will be deemed hereunder to be a resignation by that officeholder. Upon resignation, the vacancy shall be filled at a special meeting of the Local Unit Members. The Board will appoint members of all committees including but not limited to the Appeals Committee.

MAP Board of Directors Position Descriptions: Duties and Responsibilities

ARTICLE VIII: DUTIES OF PRESIDENT

The President shall preside over the Board of Directors and in his absence a Vice President appointed by the President. The President will be authorized to spend up to one thousand dollars ($1000.00) for emergency expenditures.

The President shall be the chief executive officer of MAP in all matters. By his or her position, the President will sit as a voting member on all committees (except the Appeals Committee).

ARTICLE IX: DUTIES OF VICE-PRESIDENTS

In the absence of the President, he or she may appoint a Vice-President to preside at meetings. The Vice-Presidents shall perform their duties as direct representatives to Local Unit Members assigned by the Board and as otherwise authorized herein or by the Board or the President.

Article X: Duties of Secretary Treasurer

The Secretary/Treasurer shall be responsible for keeping minutes of the meetings of

the Board of Directors. The Secretary/Treasurer will oversee and assist the Executive Director in the management of the financial and communications affairs of MAP, including but not limited to; collection of dues from local Unit Members, oversight of the MAP Website and Social Media platforms, and any special tasks as needed to keep the membership informed of MAP services and administration.

The Secretary/Treasurer shall regularly report to the Board of Directors the financial status of the Association as well as an annual report to the Local Unit Members at its annual meeting.

Any Business Brought forth by the Board. Lunch Follows Meeting at Sea Dog Brewery

PTSD is becoming a silent killer among First Responders. This is an issue that has been kept suppressed for so many years, thought of as a weakness. It is time we get it out into the open and accept that it is a part of our profession.
The Board of Directors of the Maine Association of Police is proud to announce the following individuals as those being conferred with awards at the 21st Annual Maine Association of Police Awards Banquet on January 25th, 2020.
We would also like to extend our special thanks to the following for helping make the MAP Awards Banquet a success;
Chris Gower and Admiral Fire and Safety
The Maine Public Safety Pipe and Drum Corps
The Portland Elks Club
Jim Fahey; Entertainment-MC
Josh Robbins; Photography
Our Members and Retirees

Please join us in celebrating the incredible service of these officers, civilians, and businesses as well as all of Maine's First Responders. Congratulations and great work!


Business Recognition Award:

Michael Concannon
C-Salt Gourmet/Kettle Cover Creamery

David W. Pickering Chiefs Award:

Chief Janine Roberts, Westbrook PD


Lifetime Achievement Award:

Officer Robert Libby, Ret. South Portland PD

Heroism Award:

Sergeant Justin Dolci, Brunswick PD
Officer James Fisher, Brunswick PD

Officer of the Year:

The Men and Women of the Farmington Police Department
Communications Officer of the Year Award:
Dispatcher Darcy Wiley, Sanford RCC

Larry Gross Cop's Cop Award:

Officer Robert Susi, Ret. Falmouth PD

Meritorious Service Award:
Officer Thomas Gabbard, Freeport PD
Lifesaving Award:
Officer Wade Beattie, Old Orchard Beach PD
Officer Daniel Morrison, Old Orchard Beach PD
Officer Cody Hogan, Old Orchard Beach PD
Officer Benjamin Davis, Cape Elizabeth PD
Officer Ryan Wagner, Cape Elizabeth PD
Officer Keith Norris, Freeport PD
Special Recognition/Donation from MAP Charities:

The Maine Troop Greeters, Bangor; $500.00
The Freeport Flag Ladies/K-9's on the Front Lines, Freeport; $500.00
The Maine Military Museum & Learning Center, South Portland; $500.00
Ms. Jill Cole and the Cole Family
---
Tom Cole: Tribute to His Brother
Give the Gift of Music and
Help Support the Family of Our Fallen Brother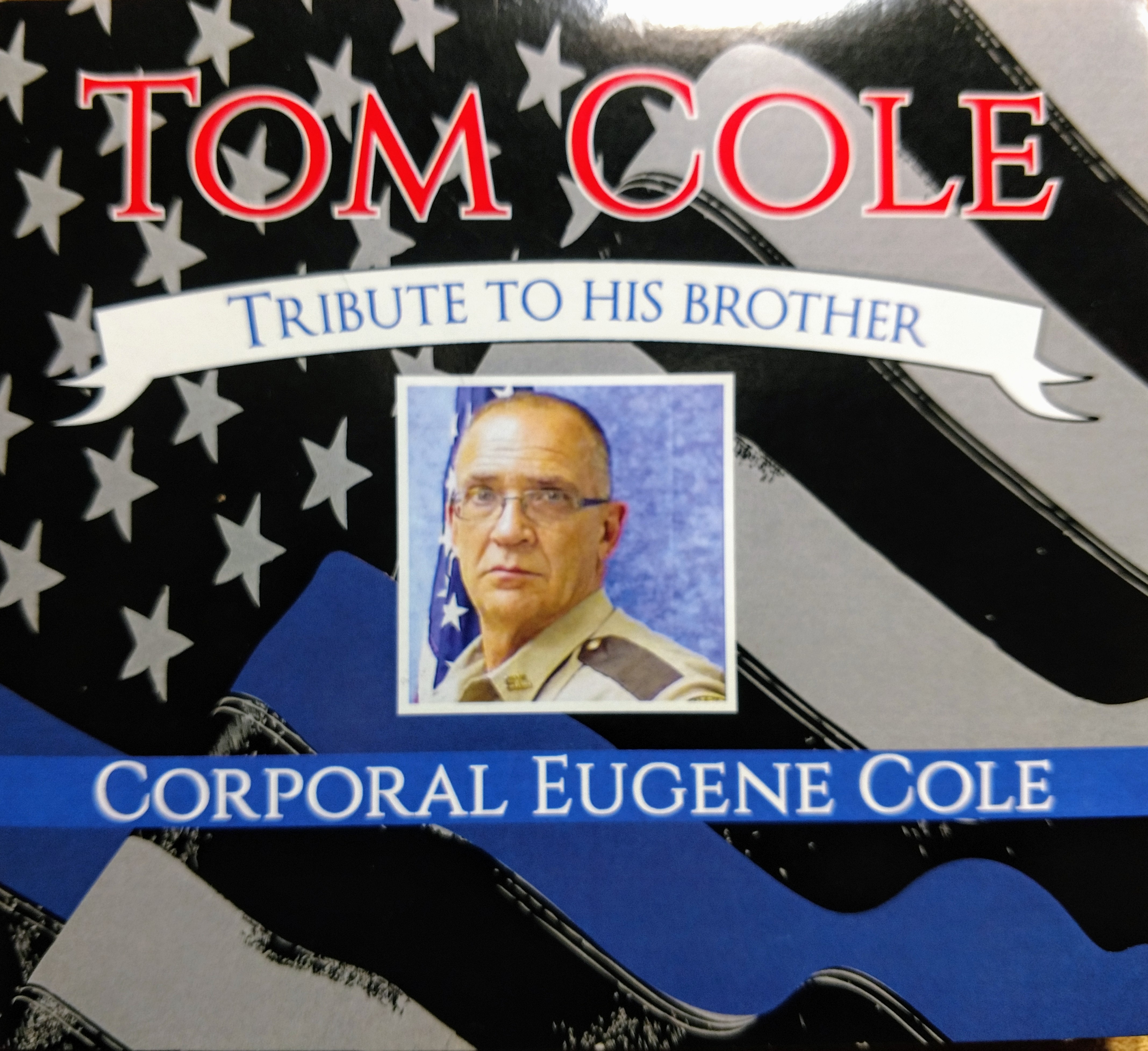 MAP is partnering with Tony Mantor of Plateau Music in Nashville to support the Blue with this tribute to Fallen Somerset County Sheriff's Corporal Eugene Cole. Corporal Cole was viciously murdered in the line of duty on April 25th, 2018 in Norridgewock.
Gene not only leaves behind his wife of 41 years and four sons and many relatives including his brother Tom but a grieving law enforcement community as well.
The MAP board and its members have been challenged to step up and support Gene and his family in their time of loss. Recently, Tony Mantor, who was born and raised in Skowhegan, brought Tom Cole and members of Gene's family down to Nashville and made it possible for them to record 5 songs written by Gene as a tribute that are now contained in the CD pictured above. The Tracks are;
1. On My Way To Nowhere
2. Room 13
In addition, Mantor brought together incredibly talented session musicians from throughout Nashville; many who played with well-known artists you listen to today on top radio charts to help in the effort. It is a testament to what Maine people are all about and a team effort in securing the memory and legacy of Gene Cole. In addition, there is a companion DVD that documents the project and efforts, as well as interviews with Mantor, musicians, members of the Cole family and of course; the making of the music.
Click HERE To Listen To "Life Without You"
Tony Mantor has held strong to his Maine roots and the automatic impulse to help his neighbors and friends. Covering the costs involved with the production, he has put together a set of both the CD and DVD; especially for MAP members and LEO's for a special price of $20.00. With our help, we can ensure that ALL PROCEEDS go to the Cole family to assist them in their needs going forward without Gene. The challenge AND the goal given to us is to rally our members and fellow LEO's throughout the state and sell 500 sets which in addition to previous sales will net the Cole family $15,000.00!
WHAT CAN YOU DO?
Quite simply, pledge to buy a CD/DVD Set, or several. Encourage or challenge your fellow members or departments to do the same. We know that we can meet this challenge and it is our hope that we will not only reach our goal of 500 sets but put in an order for more! We are doing this by asking you to PRE-ORDER and PLEDGE to purchase sets through the form below.
The DVDs are in the process of final production and the sets will be sent to MAP when they are done and combined with the CDs. This will allow us to have all sets shipped at once and as MAP will be covering the bulk shipping cost, 100% of your $20 purchase price will go to the Cole family.
HELP US SHOW WHAT MAP HAS ALWAYS BEEN ABOUT. PRE-ORDER AND PLEDGE YOUR $20.00 FOR EACH SET YOU DECIDE TO PURCHASE! HELP SPREAD THE WORD AND ENCOURAGE OTHERS TO DO THE SAME. THIS PLEDGE FORM WILL BE ON THE HOME PAGE AND OPEN TO ALL WHO WOULD LIKE TO HELP OUR CAUSE.
ON BEHALF OF THE MAP'S BOARD, TONY MANTOR AND ESPECIALLY THE COLE FAMILY, YOU HAVE OUR THANKS FOR KEEPING THE FRATERNAL CONCERN FOR OUR BLUE FAMILY.
STAY SAFE AND WATCH OUT FOR EACH OTHER
TO PRE-ORDER "TOM COLE; TRIBUTE TO HIS BROTHER"
| | | |
| --- | --- | --- |
| | Selected PSA | |
| | | |
MAP Has "Your SIX"
We are proud to invite our members and supporters to the inaugural Maine Association of Police Podcast; "YOUR SIX"! This is the culmination of a long process of planning, technical assistance and hard work to bring a new level of communication and access to our members throughout the state.
Your SIX will provide our members with topical and current issues affecting our law enforcement profession, including; legal, labor, family and all things related to our fraternal concern. We will be using both audio and video casts with a myriad of guests and topics.
We are very honored to have Randy Sutton, a national speaker, subject expert, and former Las Vegas Metro PD Lieutenant as our first guest. We will be talking about Randy's new national initiative - "The Wounded Blue" and MAP being one of the first to partner and support the effort!
YOUR SIX debuted at NOON TODAY on our Facebook page as well as our website, with the first episode open for public viewing . After this first viewing, this will become a member only accessible service for our loyal members. You can also now view our first episode using the link below.
Stay safe and we have Your SIX!
for more information about Rany Sutton & The Wounded Blue, go to;
Listen to MAP Friends and Supporters Turquoise Willie Honor First Responders
"Over the last several years we have spent time traveling around the country performing from coast to coast. During our time we have gotten to know many first responders and have to become quite close. Thanks to these friendships we have been given a glimpse into their lives and the sacrifices they make every day without question. There have been several tribute songs written throughout the years, but we wanted to take their stories and connect them into a piece of work that acts almost as a mission statement to convey the pride and camaraderie that exists in this international fraternity."
TO ALL THE MEN AND WOMEN WHO DO THE JOB;, THANK YOU!
| | | |
| --- | --- | --- |
| | Blog Topics | |
| | | |
| | | |
| | | |
| --- | --- | --- |
| | Portland Press Herald | |
| | Connection Failure: This usually happens when the news feed URL is entered incorrectly. | |
| | | |
| | | |
| --- | --- | --- |
| | Officer.com | |
| | Connection Failure: This usually happens when the news feed URL is entered incorrectly. | |
| | | |
UnionActive Police Newswire